Spring Cleaning in Style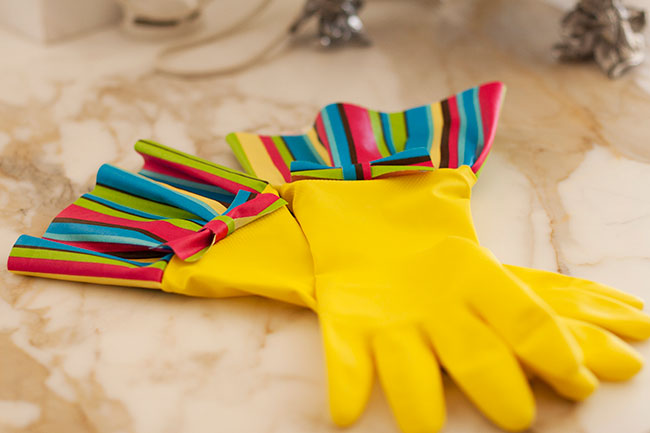 Great ideas get a second look – here's one just in time for Spring cleaning!  Who says you have to sacrifice style while you scrub? Spruce up your average rubber gloves with various patterns, colors, and trim. All it takes is a little bit of material and a pair of rubber gloves. We featured this project a few years ago…we still love it and think you will too!
Supplies:
1/8 yard oilcloth, vinyl, or any waterproof fabric
1 pair rubber cleaning gloves
Directions:
Cut your fabric.
For the Cuffs:  2 pieces of 4 1/2″ wide x 16″ long (for more pleats, increase the fabric length).
For the Bows:  2 pieces of 3 1/2″ wide x 1-1/2″ long and  2 pieces of  1/2″ wide  x 2″ long.
Fold material into pleats, pinning in place as you go on the wrong side of the material. Stitch a running seam across the top to hold the pleats in place; remove pins.
With right sides together, sew the open (un-pleated) ends together to form the cuff.
Pin the cuff to the glove, right sides together, and sew with a 1/2″ seam allowance. Remove pins and fold cuff up.
To make the bow:
Start with the 1/2″ x 2″ piece. Sew the end together to form a loop (you will make two of these). Hand stitch the loop to the glove. Pull the 3 1/2″ x 1-1/2″ piece through the loop (no sewing necessary) to form the bow.