Don't Peter Out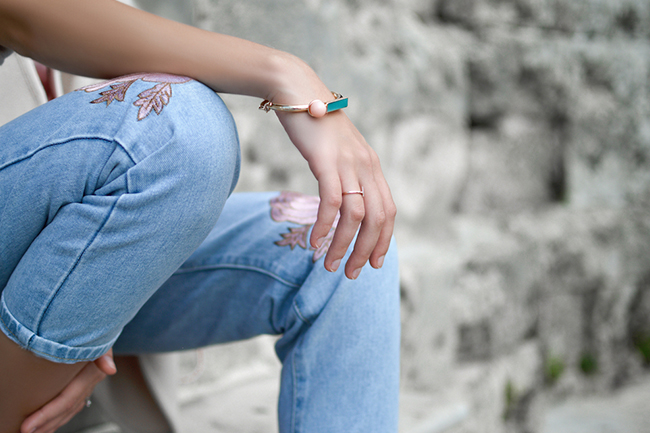 "Lord, if it's You," Peter replied, "tell me to come to you on the water."
"Come," He said.
Then Peter got down out of the boat, walked on the water and came toward Jesus.
But when he saw the wind, he was afraid and, beginning to sink, cried out, "Lord, save me!"
Immediately Jesus reached out His hand and caught him.
"You of little faith," He said, "why did you doubt?"  – Matthew 14:28-31 (NIV)
Recently, I had an experience that taught me all over again just how real God's promises are. As an almost sixty-something (almost!) I wasn't looking for new lesson. As it turns out, this old dog can learn new tricks! More importantly, my need for faith and trust in Jesus never gets old.
One Saturday morning, my husband was called away for a few hours of pastoral ministry. As I waved good-bye to Brad, my eye wandered to the neatly stacked row of Christmas boxes still lining the garage floor. "Hey," I thought to myself, "It's time to get those back up in the garage attic." So I put a movie on for our daughter Kara, locked her wheelchair securely in place and headed into the garage. After opening the garage door and backing our van into the driveway, I climbed the ladder up into the rafters to organize my plan.
Oh good, there was plenty of room for all the boxes—I would just need to move a couple of bags out of the way. I took a few steps toward the edge of the attic floor. That's when things went terribly wrong. Crack! The wood beneath my feet instantly gave way. I fell through the garage ceiling, eyes closed, screaming all the way!
I landed face down, afraid at first even to open my eyes. My first instinct was to run my tongue over my front teeth . . . were they still intact? Nothing else seemed as important. My hands were raw, scraped with drywall. I felt pain in my right leg and my right thumb (which was still healing from surgery a few months prior).
It all happened so fast and then I realized exactly where I was . . . I had landed flat on my stomach on top of our garage refrigerator. Unbelievable!
"Even to your old age and gray hairs I am He, I am He who will sustain you.  I have made you and I will carry you; I will sustain you and I will rescue you." – Isaiah 46:4
I thanked God immediately in prayer (with eyes open) for saving me, perfectly placed, on top of this tall appliance. I was alive to tell the story! But how was I going to get down? Brad would not be home anytime soon. Kara was safely inside, but there was no one around to help me.
Do you have the same picture in your mind that I have? Like a black and white cartoon, an old lady falls through the ceiling and there's an old ice box in exactly the right spot to catch her fall!
But back to my story . . .
Take it from me, being 4 foot 11 inches tall has its challenges, and this was one of them. My short legs couldn't reach any of the boxes surrounding me on the floor below. I looked for something I might be able to jump down onto but everything looked as unstable as a Frogger game (if you don't know what that is, google it). So naturally, I panicked. "Now what do I do?"
Feeling unsteady on top of this six-foot high cooler, I decided my best option was above me. Now that there was a crater-sized hole, I wondered if I had enough strength to pull myself back up into the attic. I prayed for strength and started to stand up. But I looked around and my faith, just like Peter's, drained away and I sunk down, defeated. Stranded and helpless atop our old Frigidaire.
"Lord, help," I prayed. Now I didn't hear an audible voice, but there was no mistaking His answer. "You asked Me for strength, now you need to trust Me." I realized that my only way down was up.
With total trust in my heart (but still hesitant in my mind) I reached up for two exposed beams. Then, with a circus-worthy high kick, I swung my left leg up into the opening and caught the beam with my heel. I pressed my running shoe tight against the plywood and pulled myself up through the opening. God and I were the only ones there, and we both know it was His strength, not my inadequate muscles, that accomplished that amazing feat.
I crawled like Sweet Pea across that attic floor and slowly crept down the steps onto safe and solid ground.
It was a surreal thirty minutes of my life (maybe only fifteen) and I am still thanking God for saving me. I'm so grateful that He hears when we cry for help, and rallies us with courage to trust Him.
Now this was not the most harrowing experience of my life. We know, and pray, for others who are facing much worse. My point in this, the lesson learned, is never give up on Christ's promises. Don't Peter out!  We can trust Jesus for help and strength in any situation because He said we can. He loves you enough to carry you to safety.
We never need doubt the mighty power of our God. Have great faith—His promises are true!