Black Butcher Paper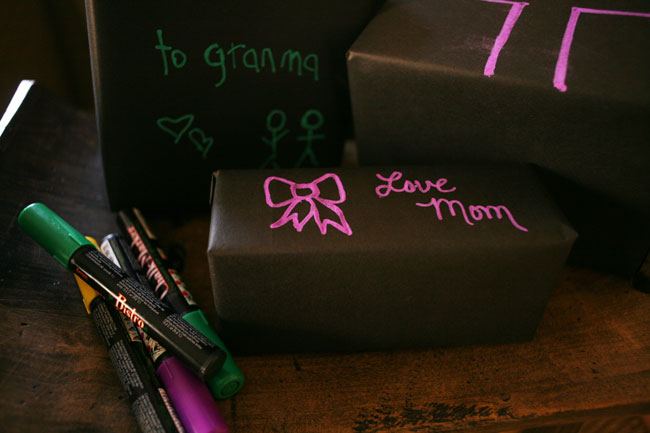 A Playground for Creativity
This project is for anyone! Yes, you! No skill required.
For years, I've kept on hand a very large roll of black butcher paper. We use it for lots of projects. I thought I'd share some of those with you as the holidays are approaching and family and friends will be gathering. It's just been a playground of creativity for gift giving and dinners in our home. I hope it inspires you too.
Supplies:
Black butcher paper (the larger the better)
Bistro chalk markers (can be found at art-supply stores)
Creativity
Order a large roll of black butcher paper (Pacon makes a nice one). I ordered the "durable" kind. Purchase bistro markers from an art supply store. The more colors the better.
Ideas:
One way we like to use it is as a tablecloth. Cover your table and tape down the ends with masking tape. We have used it to draw our place settings and to teach how to set a table. One year we wrote verses all over it for Thanksgiving. Everyone wrote what they were thankful for next to their plate.
It's also been a great way to teach at home. When doing homework or memorization, we write on the paper and leave it down all week to reinforce what we're learning. If we have a specific struggle that we're facing, I like to cover the table and write across it a verse that helps encourage us.
Something about having markers and a drawing surface seems to keep us all at the dinner table a bit longer and enjoying one another's company.
The black paper gives endless possibilities for gift wrapping and is a great choice because it is tough, durable, and isn't see-through! Forget the card and write your sentiments across the gift instead. If you're an artist, draw your card on the gift.
Draw your bow and your gift tag too! Let your little one draw a picture on it. Grandparents especially treasure this!
I've written long cursive letters across presents and left it without a bow. People love reading it and are blessed by the words.
Hot-glue fun stuff on the box: cute papers, letters, buttons, or trims.
Get creative! I'm sure you can think of many more ways to decorate your gift with your butcher paper as a backdrop.
Cover your front door with the black paper! Write a message across it…an encouraging scripture. Make sure to leave your porch light on so they can read it!