When God Takes the Long Way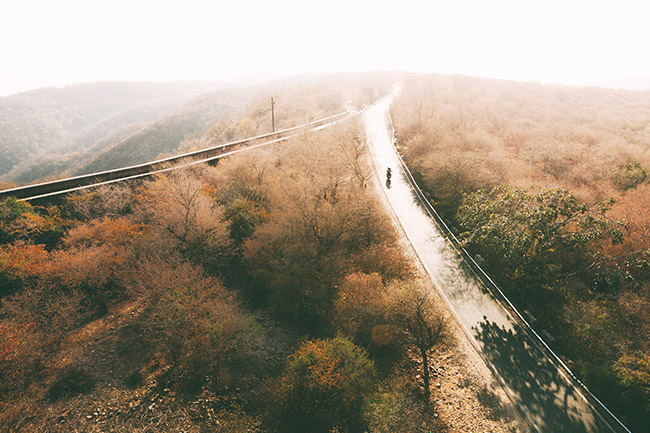 Do you ever feel like you're going the long way around? You have a destination in mind but God seems to be taking you on the "scenic route"…without the scenery? I know I have. Maybe it's a dream job, marriage, or an opportunity opening. You see it right in front of you, but God seems to be taking an unreasonable amount of time getting you there.
It can be frustrating, discouraging, and downright maddening when the wait just continues to expand. What we think should take hours or days to accomplish can end up taking months or even years. We struggle and push with all our might to make it happen but God has a completely different timeframe in mind.  
Discouraged with some "scenic routes" occurring in my own life, I sat down to read the Word this morning and found God telling me to re-read the verses I had read just yesterday.
Then He showed me this:
"When Pharaoh finally let the people go, God did not lead them along the main road that runs through Philistine territory, even though that was the shortest route to the Promised Land. God said, 'If the people are faced with a battle, they might change their minds and return to Egypt."
-Exodus 13: 17 NLT (emphasis added)
Let's recap on the story for a moment: God had just brought the Israelites out of their slavery in Egypt. The Israelites were tired, worn out, and scared. They were ready to get to the Promised Land, a land "flowing with milk and honey" (Exodus 3:17). And yet, even though they could see the shortest path in front of them, God still began leading them the long way around.
He saw both paths, but more importantly, He saw both destinations.
His path led to the Promised Land. Their path led them back to slavery in Egypt.
Had they taken the shorter route, they would have faced a battle. A battle in itself would be devastating, but more importantly, a battle would have changed their hearts. Rather than pushing for what was ahead, they would have run back to the comfort of what they knew: the country and the slavery from which they had just been freed.
He not only saved them from the battle; He saved them from themselves.
How many battles has God saved us from? But more importantly, how many times has God protected us from ourselves?  
My long periods of singleness have kept me from running back to relationships for fulfillment. My longer-than-expected moves to other states have taught me to live fully on faith rather than relying on the comfort of family and home. The years I've spent waiting for my dreams to be fulfilled have allowed me to train and prepare for what's ahead, rather than jumping straight in and being scared off that path forever.
There are battles we could have faced in our lives that would have sent us running back to the very place we had just left. God knows there are better things ahead than the things we just left behind. He doesn't want us to be enslaved. He wants us to be free to fully live out the life He has promised us.
The path may be longer, but trust the One who sees far more than we ever could. We see the distance, but He sees the destination. And the destination makes all the difference.