Orange-Cranberry Bread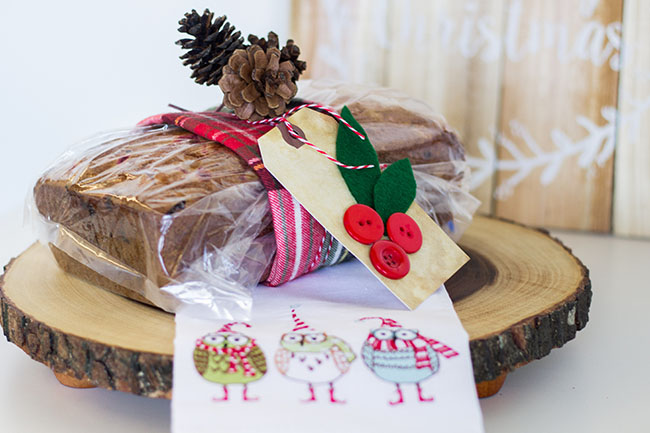 Some of the best gifts to express your love this season are those you make by hand. And what better way to say Merry Christmas than with this simple, tasty bread all trimmed out in holiday color?  You can make it sweeter with drizzled icing.  Or skip that and use it to make sandwiches with leftover turkey the next day!  You can make this gift for a neighbor—wrap it up pretty and share God's love with a special scripture on the tag.
Makes 3 small or 1 full sized loaf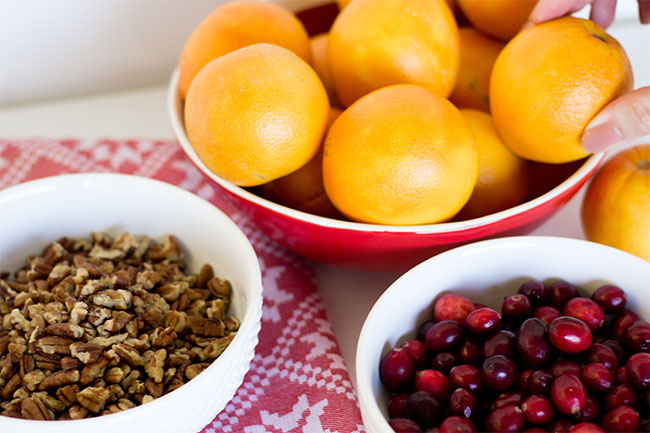 Ingredients:
2 cups all-purpose flour
1 1/2  teaspoons baking powder
1/2 teaspoon baking soda
1/2  teaspoon salt
1 tablespoon grated orange zest
1-1/2 cups fresh cranberries (washed and lightly dusted with flour)
1/2 cup pecans, coarsely chopped
1/4 cup butter, softened
1 cup granulated (white) sugar
1 egg
3/4 orange juice (fresh squeezed if possible)
Instructions: 
1)      Preheat oven to 350°
2)      Grease and flour a 9X5 inch loaf pan.
3)      Whisk together: flour, baking powder, baking soda, salt.
4)      Stir in cranberries and pecans. Set aside.
5)      In a large bowl cream together: butter, sugar and egg until smooth.
6)      Stir in orange juice and orange zest.  Stir in dry ingredients until just moistened.
7)      Pour into pan – Bake for 1 hour or until the bread springs back when lightly touched.
Let cool in the pan for 10 minutes, then turn out on a wire rack to cool completely.
Wrap completely cooled loaf  in plastic wrap, decorate, attach tag.
Optional: Drizzle orange icing over the top for added sweetness and decoration.
Icing:
1/3 cup confectioners' sugar
2 1/2  teaspoons orange juice