No Lost Prayers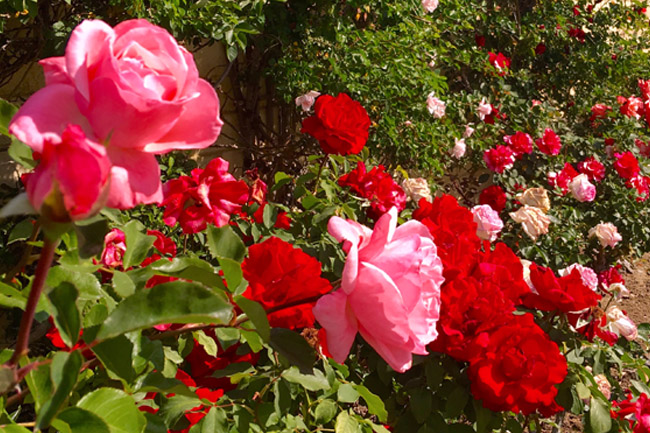 Spring! The explosion of color that fills my yard right now is amazing. I did not plant these roses. Someone else did, years ago. Someone else tilled, planted, watered and waited. The bare-root sticks they put into the ground held the promise of bloom but it was a long time coming. I wish they could see the burst of fragrant flowers I'm enjoying today because they tended a tiny plot of soil back then. To me, it's a picture of how we must be patient in our prayers and never stop growing in the meantime.
Lately, God has been reminding me that He always answers prayer. Seasons pass and some prayers seem to get lost in the waiting. We may even forget and move on. But God listens. He doesn't lose track of our tears and prayers.
When God sent an answer to Cornelius, a devout man who prayed continually, the angel told him, "Your prayers . . . have ascended as a memorial before God" (Acts 10:4 ESV). How long and how many times did he pray before the answer came? We don't know. But perhaps, as one old preacher put it, God let those prayers accumulate at His throne until finally—like moisture gathered up in a cloud—they burst open in showers of blessing on Cornelius and his household.
Recently a friend told me about her visit with a cousin she hasn't seen in 25 years. After several days of catching up, she said they were close as "two peas in a pod" in spite of the years that separated them. Neither was raised in a Christian home, but to her delight, my friend discovered her cousin wholeheartedly follows Jesus and traces the roots of her faith back to the very same influence. "I wouldn't be who I am," she said, "if it wasn't for our praying grandma."  What a sweet testimony to the staying power of prayer.
Her story reminds me of my own praying grandma, who had a passion for growing beautiful flowers. Her backyard was a garden paradise of roses, hydrangeas, fuchsias, giant sunflowers and delicate ferns. There was always plenty of rhubarb and a perennial patch of strawberries (for homemade pies, yum) but that's a story for another time. My salt-of-the-earth, Kentucky born Grandmama could coax anything to grow! She also had a deeply-rooted passion for prayer; she often nurtured one passion while doing the other. She said some of her best praying came while working her garden.
It's been said that our prayers outlive us. Amen!
No breath of true prayer is ever lost.
In due time, He will answer . . . far above and beyond all that we ask or think!
"For I know the plans I have for you," declares the Lord, "plans to prosper you and not to harm you, plans to give you hope and a future. Then you will call on Me and come and pray to Me, and I will listen to you." (Jeremiah 29:11-12 NIV)
Let all that I am wait quietly before God, for my hope is in Him. (Psalm 62:5 NLT)