Macramé Wall Hanging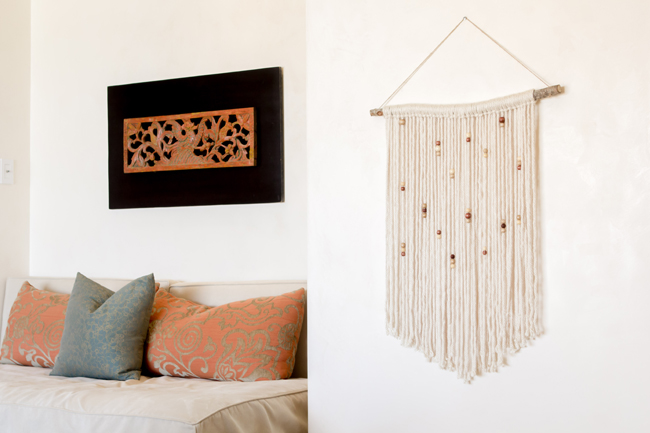 Macramé is everywhere in home trends right now. I love the texture it adds to any wall and wanted to try it, but it seemed complicated and time consuming. Well as it turned out, this project was very easy to create!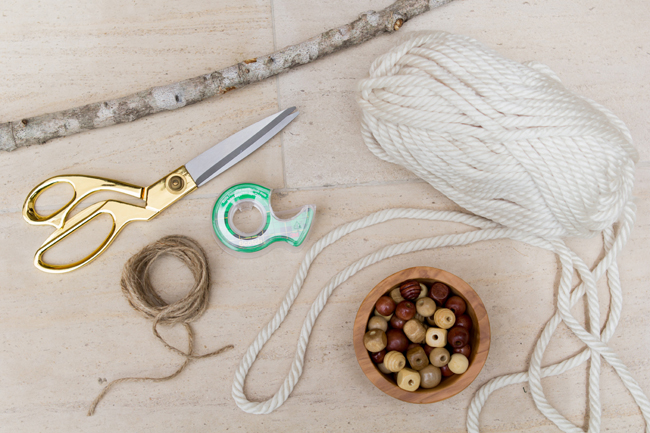 Materials and Tools
2 skeins of thick yarn (I used Bernat Mega Bulky in Aran)
1 Stick (I found one at a park and cut it to 26 inches, but a dowel or copper pipe works great too)
Twine or Rope
Wooden Beads (find at Michael's or any local craft/jewelry shop)
Scissors
Measuring stick
Scotch tape
Power drill (optional)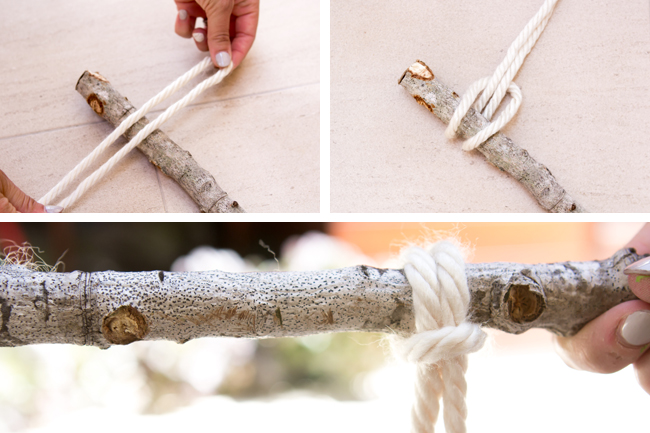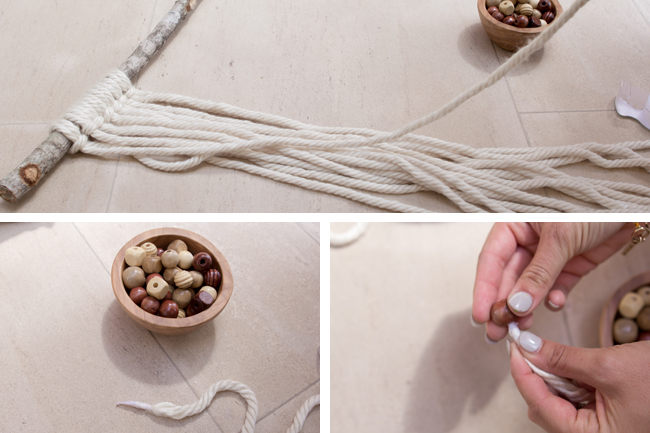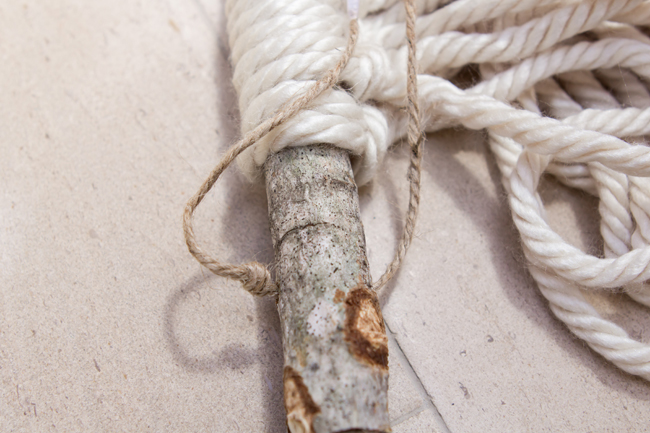 Directions
Drill holes in each end of your stick or dowel. These will be the holes for hanging your finished project. If you want to avoid power tools, skip this step and refer to step 6 later for hanging instructions.
Cut yarn to the desired length (I cut mine to 70 inches, which is later folded in half).
Attach yarn to the stick with a simple knot called a "lark's head" knot. Fold yarn in half, lay the folded "loop" end across the stick (like you're making a "t") allowing a few inches on the folded end to form a knot. Pull both loose ends through the loop and pull tightly to secure it to your stick. (See this knot demonstrated on YouTube).
Continue adding yarn until you have the desired width for your wall hanging. I really liked the organic look that my stick added to this piece, so I chose to leave a few inches of stick showing on each end.
Add wooden beads. I did mine sporadically, with no intentional pattern, in different color combinations. Because the yarn is thick, you will need to wind tape on the loose ends of the yarn so you can string beads onto it. Use a slight twisting motion, almost like you are screwing them on, to get them through the first section of yarn.
Once you've completed the beads to your liking, cut twine or rope to desired length for hanging your piece. Thread the twine or rope through drilled holes on the stick and double knot each end on the backside so the knots aren't visible on front. If you prefer, simply wrap twine around the end of the stick and tie a double knot.
Using scissors, trim yarn to the desired length (I cut mine into a "v" shape).
Hang your new macramé art and enjoy the simplicity and texture it adds to your space!