Using Technology to Keep Yourself in God's Word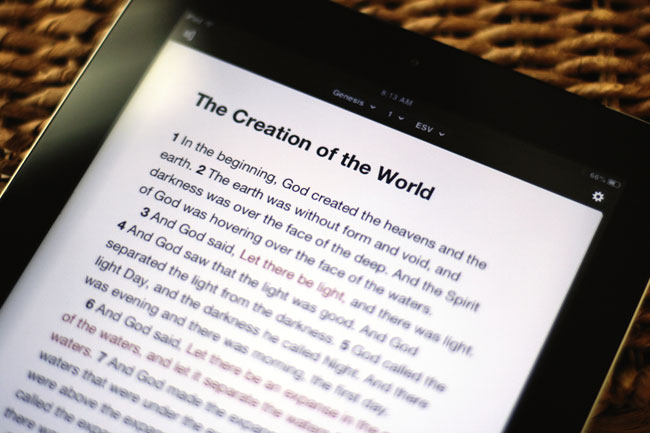 As a web developer for Harvest, I love hearing about how God uses technology to impact people's lives. After I did my Bible study this morning on an iPad, I was thinking about how wonderful it is that we have so many useful Bible study tools available to us through technology. If you have a smartphone or tablet, I would really encourage you to use it to its full potential to help you stay consistently in God's Word! Here are a few apps that can help you do that:
The Harvest: Greg Laurie App
Yes, I'm biased, but I think this is a great app! The Daily section has a year-long Bible reading plan (available as text or audio!) as well as daily devotions from Pastor Greg. The Tools section has answers to common questions people ask about God. Some answers are even in video form, created specifically to answer these questions in an easy-to-understand way. There's also a great archive of Pastor Greg's latest messages in audio and video. (Free app for iPhone/iPod Touch, iPad, Android)
Bible
The Bible app from lifechurch.tv is completely free and packed with great features. Many translations are available, many downloadable so that you don't need an internet connection, and some have audio as well. With a free YouVersion.com account, you can bookmark, highlight, share verses on your social networks, make notes that can be public or private, and put yourself on a Bible reading plan. They have many reading plans to choose from of varying lengths and topics, and they even help you stay on track with optional reminders and accountability settings. They have an app for all the major platforms, or you can just use their website (YouVersion.com).
Day One
I've tried several times to start journals, for both prayer and for devotions, but I've never been very good with keeping up with them. Having a journal on my phone and iPad has really made a big difference. I use this journal for everything, and tag my entries with keywords like "prayer" or "devotion" or anything that I want to be able to look up. It syncs across devices, so it's always up to date. The date, time, location, and even the current weather are automatically recorded. Reminder notifications can be set up to encourage you to use it, but it's so fast and easy to add an entry that I find myself using it multiple times a day, no reminder required. (iPhone/iPod Touch, iPad, Mac)
Verse by Heart
This Bible verse memorization app allows you to enter the verse yourself, which is quite useful when the translation matters, like for a Bible study, or memory verse test at school. There are three drill styles. It starts off easy and gets harder. They're drills, not games, so I can't say my kids are crazy about doing them, but they can't deny that they're effective! I actually think they're fun, and it has helped me to memorize the verses right along with my kids. (iPhone/iPod Touch)
Notability
This is an iPad app that's meant for note taking, either with typed text, or handwriting using a stylus. One great feature is that you can import PDFs and write on them. If you do a Bible study that has downloadable PDFs (like the Virtue study), you can handwrite your answers right on the iPad. It has great organization of files, too, so you can keep your studies together and in order. When used alongside a Bible app, the iPad can be all you need to complete your study.
Kindle or Free Kindle App
I never knew until I started exploring Amazon, but there are many Bibles and Christian classics available for free or for just a few dollars in the Kindle store (C.H. Spurgeon, A.W. Tozer, D.L. Moody, and Andrew Murray, to name a few). There's a free Kindle app available for all smartphones, computers, and tablets.
Social Networks
Look up your favorite Bible teachers and authors to get biblical encouragement out of your social networks. Many popular pastors and teachers are on Facebook and/or Twitter and post often (including Greg and Cathe). Social networks are also a good place for prayer. Almost every time I'm on Facebook there's an opportunity to pray for someone.
This just scratches the surface; there are some awesome resources out there! If you have ideas to share, please comment below!