Simple Centerpieces
Nothing compliments a summer table more than fresh flowers or even vegetables! Here's a creative and inexpensive way to put together a centerpiece that I think looks good enough for any special occasion.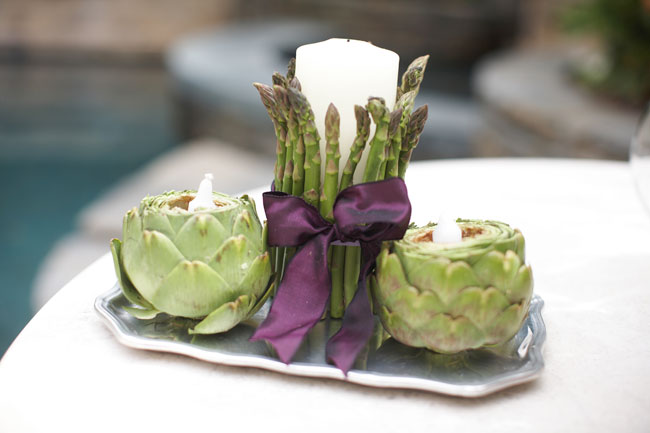 I chose the exotic thistles we call artichokes, and paired them with tall stalks of asparagus.
For the artichoke, I started with a serrated knife to cut off the top of the artichoke. Then, I used a small paring knife to create a hole in the middle—large enough to fit a small, glass votive. This can be challenging as the artichoke has sharp points at the end of its leaves (actually these are the petals). Carefully, keep working the hole, removing the choke until it can fit a small glass votive. Insert a candle inside the glass holder. Repeat the process for as many artichokes as you'd like to use in your display.
For the asparagus, I chose a nice, fresh bundle and cut the bottoms to make them fairly even in length. I put a rubber band around my tall pillar candle and added the asparagus around the candle, filling in all of the space. Then, using your wired ribbon, wrap it around the asparagus, covering up the rubber band, finishing it with a nice bow. We displayed all three elements on an old pewter vegetable tray.

This centerpiece is so easily customizable to your color scheme, by using a different color pillar candle and ribbon. Be creative; use a long wooden tray with natural jute ribbon around the candle to make it more earthy. Use a simple glass dish with a metallic ribbon to compliment a more modern table. There's no end to the possibilities and it's simple enough to do in a relatively short amount of time. Have fun!
Materials and Tools:
Paring knife
Serrated knife
2 medium-sized artichokes
1 bundle of Asparagus
Ribbon in your choice of color (I chose a deep purple.)
1 Pillar candle (We used white in this centerpiece.)
2 Votive candles and candle holders
Rubber band