Rio Olympics No Go = Success?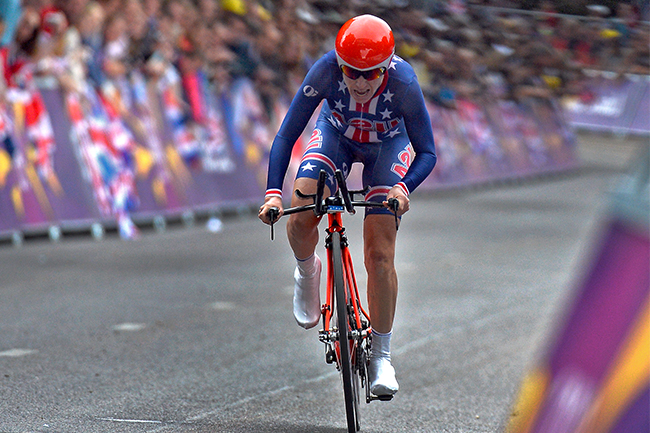 Amber Neben is an ambassador for Christ disguised as a bike racer. She is a two-time Olympian in road cycling (2008 and 2012), a Time Trial World Champion, National Champion, Pan-American Champion and multiple Tour de France Feminine winner.  Amber is the founder of The Dare to Be Project, which inspires financially and physically challenged youth to embrace life and dare to be their dream.  
When is success not measured by achievement or a title? We live in a world that constantly looks for success from tangible markers.  Identity and self-worth is based on your job, your income, where you live, how you dress. It might be measured by your child's accomplishments. People are quick to define success, judge, and assign value. It is easy to get caught up in it.
As an elite athlete who has competed in two Olympics, I'm often asked, "Did you win gold? Did you win ANY medal? How many races have you won? How much money do you earn?" This year, with the Rio Olympics, I can't count the times I've been asked, "Did you make the team?"
Here is my short answer: I won no medals in either Olympics. I don't know how many wins I have, but there have been many more losses and heartbreaks than victories. If I calculated out time and pay, my hourly wage is less than minimum. As for the Rio Olympics, I was a finalist which means I came close but missed the team and was left home.
By the world's standard, none of this sounds successful and it may actually seem deflating. But I would say otherwise. From the Lord's perspective, it has been amazingly successful.
God's measure of success is different than mine. He aims higher and deeper. He wants to transform me into His image. The more I reflect His character, the greater opportunities I have to win eternal medals, that is, human hearts.  Yes, God can and does use winning to transform us, but the most effective heart changes often come through the adversity, the losses, and the struggle.  Knowing Him better certainly comes through the less than "successful" moments.
Inner transformation comes as I run the race He sets before me and pursue the dreams He puts in my heart. Simply put, I run and persevere. I follow His calling tied to my unique passions and abilities.
Over the course of my life and career, God has broken me, shaped me, put me in some fires, and equipped me.  He is the Potter and I am His one-of-a-kind, handmade jar of clay. Always in His hands, being filled up with His treasures.  It's awesome stuff—but hard.  Being refined is never easy and never fast, but it is absolutely required for success! And the results are priceless.  As Paul said in Philippians 3:8, "I consider everything a loss compared to knowing Christ Jesus my Lord."  As His plain jane masterpiece, I believe God allows the cracks so that knowing Him will pour out of me for His specific purposes! I am so far from being finished, but He has started.
Success God's way requires what I call "PX4 in Christ" (perseverance, patience, perspective, and His power). There will be difficult times, but miserable seasons are not forever. Through it all, the Lord is faithful, and HIS strength is perfected in our weakness. He proves this true. Every time.
And the secret to success? The secret is simply abiding in the Vine. I can do all things through Christ who gives me strength, but apart from Him I can do nothing. (That's what John 15 and Philippians 4:13 teach us.) You see, I can write about this but you need to believe He died for you personally. He stretched out His arms on that cross for you. You are not insignificant or inadequate. God has a plan for you. He has put everything you need into your faith account. So rely on His strength and spend His riches. Write your checks!
Draw near to Him. Look for Him in the storms. Let His strength perfect you in your weakness. His peace and His ability to carry your burdens will be made real. He will direct your steps. This depth of success rarely happens from the gold medal stand—it's achieved in trauma centers, in disappointment, in the losses He allows while we are on the Potter's wheel. It happens wherever we find ourselves knowing that all we have is Him.
God's work in us doesn't always feel like success. His fires are hot, the deserts are dry, and wilderness times can seem like F O R E V E R. But when we trust Him for who HE is and give all we are to Him, He brings us a step closer to collecting eternal medals—as individuals and as a team. We press on for the prize!
I don't understand all the why's. I certainly don't stop trying to actually win. I am constantly pursuing excellence and optimizing the abilities I've been blessed with.  And YES, I so wanted to go to Rio and win gold for HIS glory! Really. It seemed like the perfect plan to me. But God said, "No. Trust Me. Let Me work."
He has a plan. He is the omniscient and omnipotent God of the universe, and He is our loving Father. He always knows best. In His hands, earthly disappointments come with . . . lasting success.
"My thoughts are nothing like your thoughts," says the Lord. "And My ways are far beyond anything you could imagine. For just as the heavens are higher than the earth, so My ways are higher than your ways and My thoughts higher than your thoughts" (Isaiah 55:8-9 NLT).