Macadamia Nut Chicken with Shoyu Cream Sauce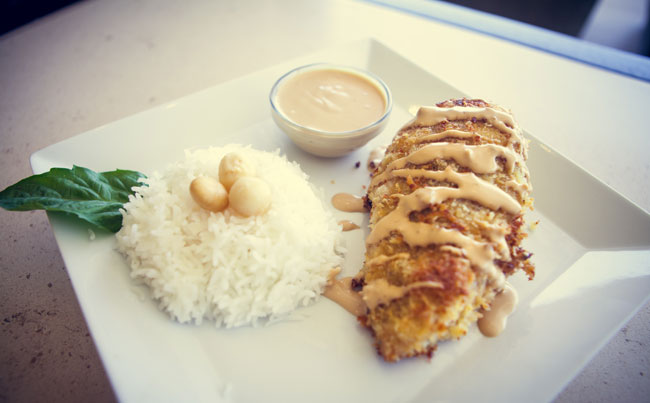 Macadamia Nut Chicken with Shoyu Cream Sauce
I am always looking for new chicken recipes; since I use chicken so much, it can get a little boring eating the same old dish. I came across this fun summer recipe and thought I would try it out.
Ingredients
For chicken:
4–8

ounces

skinned and boneless chicken breasts

1/4

cup

of chopped macadamia nuts

3

cups

of Panko

1/4

cup

of flour

1/2

cup

of milk

3

whole eggs
Salt and pepper to taste
For sauce:
2

cups

of heavy whipping cream

1/4

cup

of soy sauce

2

tablespoons

of cornstarch

2

tablespoons

of water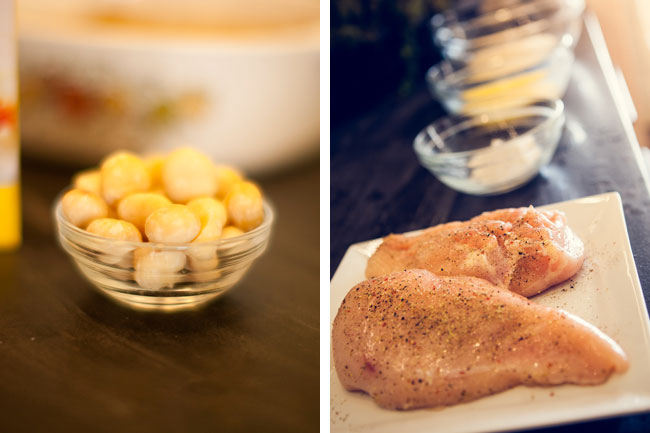 Directions
Salt and pepper the chicken and set aside.
In mixing bowl, combine milk and eggs and mix well.
In another mixing bowl, combine the chopped nuts and Panko and mix well.
Take the seasoned chicken and lightly flour it. Dip the chicken in the milk and egg mixture, then put into the mixture of Panko and nuts. The chicken should be well coated.
Heat a large size sauté pan with oil. Once the oil is hot, add the chicken and sauté it on both sides until it is golden brown. Transfer the pan into an oven set to 350 degrees F and continue to cook it for 12 minutes or until chicken is done.
For the sauce, place heavy cream and soy sauce in a saucepan and bring it to a boil; turn down to a simmer. In a separate bowl, mix the cornstarch and water and stir into a paste. Add the cornstarch paste into the cream and soy sauce and stir until the mixture thickens.