Inspiration Board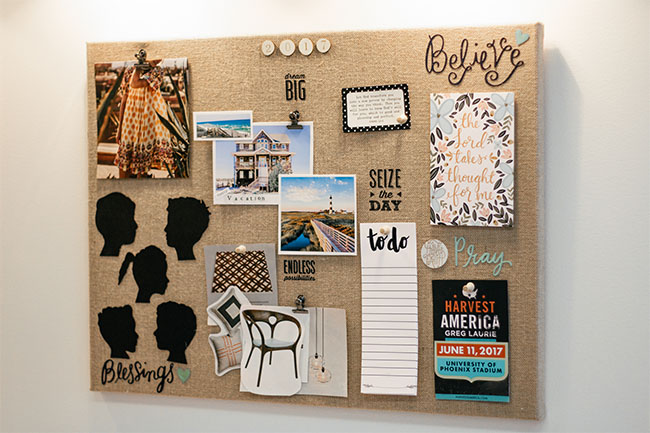 An inspiration board is a great way to gather your projects, goals, and daily doings into one eye-catching collection that can be as productive as it is pretty. This is an easy, creative way to keep your focus and stimulate personal growth. Just one rule: Keep it simple! (Our Pinterest boards can get cluttered and overwhelming, am I right?)
For mine, I keep a spot for Scripture memory (our beautiful Virtue Scripture cards fit perfectly) and inspirational quotes, and a Prayer Corner (currently occupied by Harvest America 2017). Count your blessings! I keep silhouettes of my five grandchildren, always ready for a smile and a prayer.  Other areas are for big dreams/goals (a special family vacation) and ongoing house projects.
Really, the possibilities are endless . . . what will you put on your inspiration board?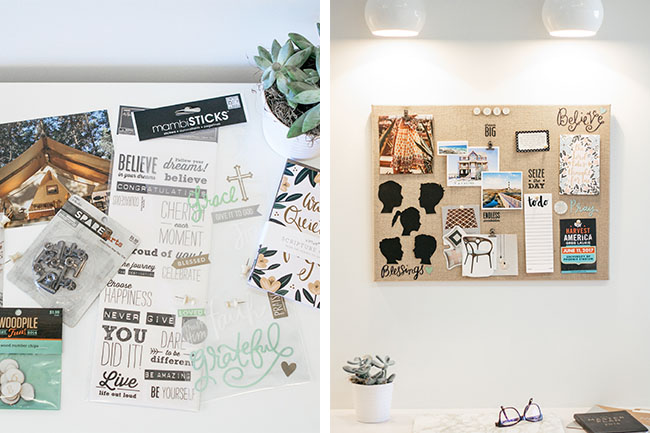 Materials:
Here are some items you may want to use.
Board – I used an 18 x 24 burlap covered canvas. You can use anything, really. An inexpensive cork board, peg board, or magnetic board would be great.
Fasteners – Pushpins, thumbtacks, magnets, tape, clips, etc.
Decorative – I purchased some puffed-decals ("believe" "blessings") and scratch-on decals ("seize the day" "dream big" "endless possibilities") at Hobby Lobby.