I Can Do It by Myself…I Think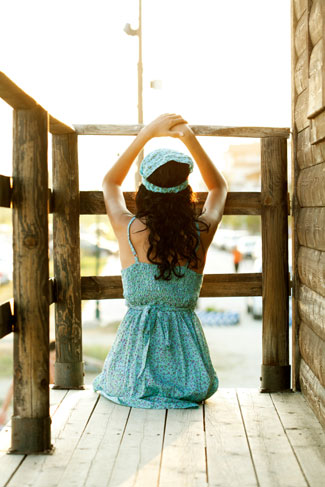 Earlier this month, I decided to set out on a DIY project for my toddler's room. I decided to paint white horizontal stripes on one of his walls and I knew that in order to accomplish this feat I would need my husband's help.
With my husband's schedule, our toddler's schedule, and life in general, it didn't seem like it was going to happen any time soon. So, I thought I would take the challenge on by myself. My husband will tell you that usually before I start any project—cooking, baking, or creating—I pray. I pray for Jesus to help me! It may sound silly to some but whenever I ask God for help, even in the smallest things, like baking cookies or making a project, He helps me every time! And it always turns out great.
But this time, impatience got the best of me and I decided I could do it. I didn't pray. I didn't ask for help. I set out to paint the stripes on my own. Three hours later, after painstakingly measuring lines and taping the walls, my husband walked in and told me that the lines looked "off."
What? There's no way! After three hours of blood, sweat, and tears (OK, maybe not blood…but definitely tears), the lines were "off"! That did it. I flung my hands in the air and told my husband I didn't care if the lines were straight or not. But being the wonderful man he is, he got his chalk line, level, and measuring tape and helped me re-draw and tape the lines in less than an hour. Needless to say, 24 hours later the lines were painted and the wall looks great.
But looking back, I see a big lesson in my life. I didn't ask for help. Most importantly I didn't ask for Jesus' help. So many times in my life, with big issues or small ones, I don't ask for God's help and I decide that whatever the issue or task is, I can do it myself. But in reality I can't; none of us can.
We desperately need Jesus' help in every issue, every task, every decision, every day, every minute. Otherwise our priorities, attitudes, and results will start to look "off." We might not realize it, but everyone around us will: our husband, children, friends, etc.
We have so many promises in God's Word of His help, His presence, His guidance, and His peace for whatever it is we are facing. Jeremiah 29:12 tells us that God listens to us, Isaiah 43:2 tells us God will be with us in awful circumstances, and in Proverbs 3:5–6 we are promised that God will direct us if we trust in Him and not rely on our own wisdom. And those are just a few!
We can never go wrong when we ask Jesus to help us in whatever circumstance we are in. He loves us. He cares about us. And when we have His help, everything in life will line up just the way He wants it to. So whether you're baking a batch of cookies, painting a room, or in need of serious direction, help, or deliverance; pray, pray, pray! Ask for Jesus' help! It will save you a lot of unneeded heartache.