Felt Flower Pillow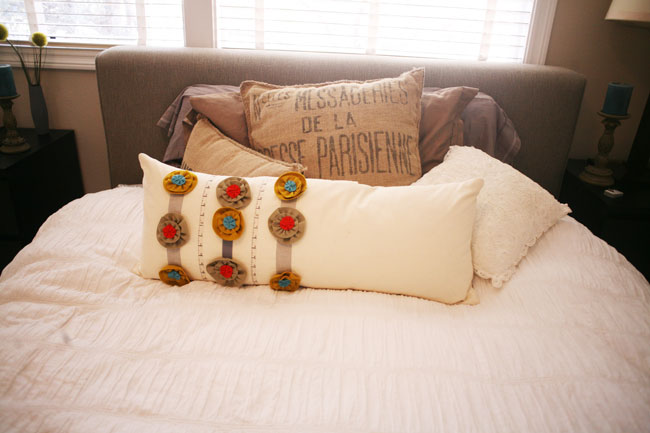 This pillow was inspired from something I saw while browsing the Internet. The original was a little too pricey for my budget, so I decided to create my own adaptation using some great yardstick grosgrain ribbon I have been wanting to use again, and some leftover scraps of felt!
Start with the basic pillow tutorial, stopping before you stitch all three pieces together. I chose to use an unbleached cotton muslin for the pillow base.
Now is the fun part: take the front side of the pillow and stitch a few rows of ribbon, varying spacing apart from one edge of the pillow to the other edge. You can choose which ribbons you would like flowers on, at the end. Once your ribbon is secured to the front of the pillow fabric, continue on with the pillow tutorial, laying front and back pieces with front edge to front edge and sewing around the perimeter. Once finished and the pillow is flipped right side out, you can make and attach the flowers.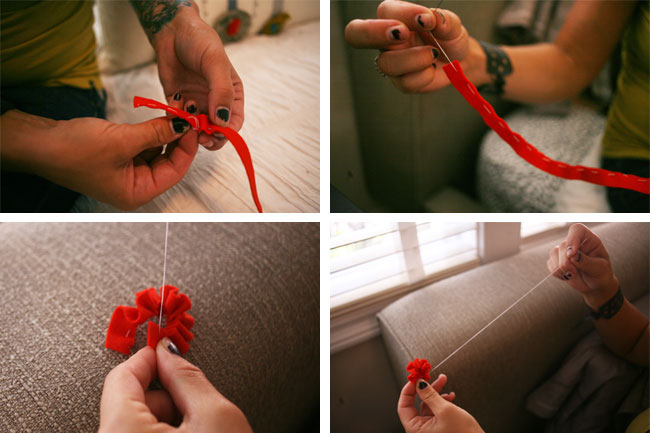 To make the felt flowers:
Each flower will use three strips of felt—the smallest about 4 inches long and the longest about 7 inches, with one size in the middle, about an inch shorter than the longest piece. You will create each of the three layers the same way and stack them on top of each other to give a layered look, attaching each layer with hot glue.
To get the felt from a flat strip to the flower design, you simply use a basting stitch with a needle close to one edge—running from one end of the felt to the other, using the longer side of the felt. Now pull the stitch taut till the felt creates the desired circle of rippled fabric. Connect the two ends with the same needle and thread by simply tying a knot or two through each end of the felt, securing the circle to stay in place.
Now stack and glue your flowers together in layers of three. Using a needle and thread, finish by stitching the back of the flower to the ribbon. Then stuff with your pillow insert!
Use your own creativity with varying ribbon choice or placement.