Count Your Blessings, Don't Idolize Them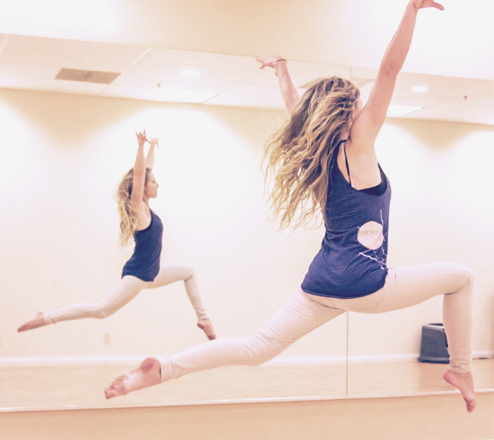 Every day I have the pleasure of walking into my happy place, the space that gives me freedom from all burdens and worries of this life, the place that I can rest in, knowing that nothing can hurt me here. I can leave my pain at the door and know that, as long as I am here, nothing can bring me down. This place is my dance studio. This small, intimate, space that I have the privilege of working in is my safe haven. And as I twirl around on the wooden floors, I can feel God's presence, letting me know that this place is a blessing that He has given me. Sometimes I feel like Kevin Bacon in the movie Footloose, letting go of my emotions and high-rising feelings by dancing my heart out and letting off steam. But the thing I have realized about this happy place of mine is that, in those peaceful feelings, I have an opportunity to worship—especially because it has not always been a place that God has allowed me to have.
What I get to do for a living is make people happy and give them joy. It is an occupation that most can only dream of. But as I thank God for my work, I have to ask myself how He can be glorified in it, because I know all too well that, when I don't give God the glory, it becomes an idol and gets taken out of my life.
There was a time when I danced for myself and for others, not for God at all. I was a professional choreographer at the age of 12 and felt that that was my calling and my love. At a certain point, when I put it completely before God in college, I got sick and the pain caused me not to be able to dance anymore. I thought God had taken it away from me permanently, as a punishment for not putting Him first. Now, I am much more aware of the need to put God first in dance because I know He could take it away as fast as He gave it back. It is a healthy fear, as God reminds me that I need to put Him first in all I do, especially in blessings.
When I lost dance, I could see that God gave me the opportunity to put Him first. When He gave me the opportunity to have it back, I failed the test at first. I went right back into it being about me, and I lost the opportunity to use it.
A year later, God tested me again by allowing me to teach dance over the summer with a few friends, and giving actors a way to improve their resumes. I did it to help others and for the joy of it rather than for my own gain. I came to a point where I recognized that I may never get the chance to dance professionally again, but if it were just for the love of it and to show love to others, that would be enough. I gave up the need to dance and was willing to let it go. This time I passed the test.
Three years later, God revealed to me that since I had done right with the little He had given me, He was going to allow me to be entrusted with more. I got the opportunity to become a ballroom instructor at a dance studio called Bella Ballroom in Newport Beach. Not only was it a chance to get back into the dance world, but it also was a full-time position that would financially support me, which is a rare thing in the art fields. As soon as I got offered the job, I prayed and asked God if this was from Him. I knew we had had an up-and-down relationship in this area, but He blessed the job in a way that I never could have imagined.
The verse that comes to mind for me often is Luke 16:10, "Whoever can be trusted with very little can also be trusted with much, and whoever is dishonest with very little will also be dishonest with much" (NIV).  I only hope and pray that I am doing right by Him where He has me now and that I keep my priorities straight. Someday, I may get dance taken away from me again, but my prayer is that, if it does, it is only because God wants to give me a different blessing, not because I have abused it.
When you are blessed by something God has given you—be it people, family, wealth, work, health, etc.—it is easy to turn that blessing into an idol. Don't allow yourself to lose your blessing by making it more important than God. For everything that we gain in life we will eventually lose, and all we will have left is Jesus. We don't want that to be devastating; we want that to give us peace and perspective. Hold onto earthly blessings loosely, for the only true blessing we should hold tightly is our relationship with our Lord and Savior.
"The world and its desires pass away, but whoever does the will of God lives forever." – 1 John 2:17 NIV